Public Space
There are restaurants where you can relax and enjoy the ocean view, and also hot baths with fine views ( some ships have sauna baths). Also, gift shop selling necessities and souvenirs, a game corner, coin lockers, ship telephone, and vending machines. There are theater lounges with live entertainment and also mini live performances at restaurants. Be sure to check the Home Page before boarding. Also some ships have spaces where small children can play and enjoy themselves.
Restaurant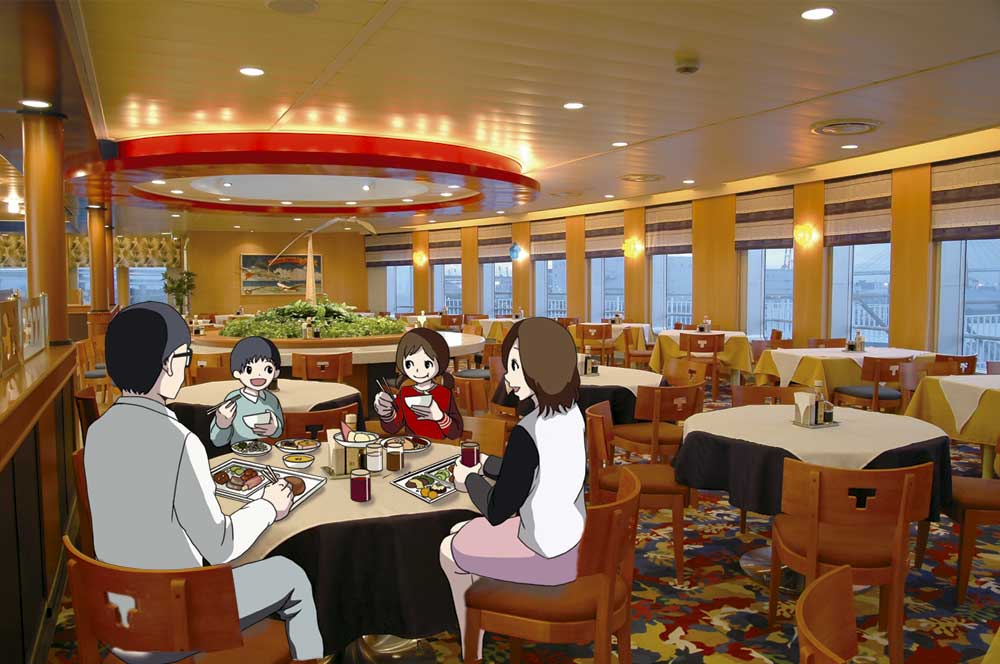 One enjoyment of a long cruise is having a meal and watching the great ocean view. Meals are mostly buffet style where you can enjoy all you can eat of your favorite dishes. On some ships you can buy fixed meals of curry and noodle dishes from vending machines.

restaurants

restaurants

restaurants

taste chocolate Fountain
Open-air hot spring bath
The best part of a long distance cruise is taking an outdoor hot bath with the ocean view. Some Ferrys also have sauna baths.
Please follow the rules of the fine-view bath. Please wash your body before entering the hot bath.
Please do not use towels in the hot tub. Please do not take video, or photographs or wash laundry in the bath.
A person with long hair should tie it back.
Concession stand
Theater & Conference room
Concession stands sell souvenirs and many popular goods, everyday necessities and magazines. You may also buy Ferry company original goods. Would you like to buy one as a moment of your trip?
We encourage you to enjoy the theater when you are in the mood. The theater may also be used for conferences and seminars. We not only have movies but live performances as well. Please check the Home Page.

Informaition desk

KID'S ROOM

Some ships have spaces for your pets.

Entrance

Games

Lobby